Signalizacijska oprema sa EEx zaštitom

EEx II Rotating Beacon dSLD 21
Hazardous areas often require the use of optical signals for warning or information purposes. The EExII rotating beacon dSLD 21 offers both of these signalling features. It is designed for continuous operation. If the supply voltage is turned on, the rotating beacon dSLD 21 is activated.The device is available in several versions with various levels of operating voltage and and various signallingcolours. The stable, glass-fibre reinforced polyester (GRP) housing is made to the IP66 degree of protection and may be used indoors or outdoors. The II 2 G EEx de IIC T6 protection class enables the unlimited use of the signalling device in all hazardous areas, zones 1 and 2.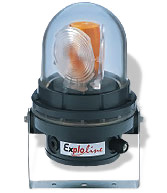 Properties
Expl.protection: II 2 G EEx de IIC T6
Housing-bottom part: Glass fibre reinforced polyester, colour black
Housing-upper part: Makrolon
Protection degree: IP 66 / IEC 529
Temperature range: -20°C up to +40°C
Product variants
Headset - Set
Additional Earpiece - set
Loudspeaker - Set
Version without keypad ZB version
EEx-Double Strobe Light dSLB 16
EEx-Strobe Light with integrated monitoring function.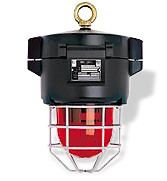 Properties
casing: Seawater-proof aluminium inside, high-grade polyrethane outside
chemical plants, offshore industry, oil refineries, aerospace sites, airport ramps, munitions storage areas
EEx de II CT 6
integrated monitoring function in case one flash light has a failiure
protection type: IP 66/IEC 529
safety Class: II (no equipotential bonding necessary)
temperature range: -20°C to +40°C
two different flash systems working independantly
SIEMENS
TELEFONSKE CENTRALE