Telefonski aparati sa EEx zaštitom

EEX II Telephone ExResistTel
Communication devices for use in hazardous areas in the industry have to be especially well adapted to the extreme operating conditions they will be exposed to. Our new Ex-telephone has been developed for operation in the petrochemicalindustry, on off-shore plants, in mills and harbours, which means it is resistant to large temrature differences, air humidity, sea water, dust and strong mechanical wear and tear. It is certified for use in hazardous dust and gas atmospheres. The Ex-ResistTel is completely programmable, and has been equipped with a 21-piece stainless (V4A) steel keypad designed for use with gloves.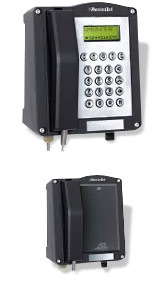 Properties
Housing Glass fibre reinforced polyester
Certified for dust and gas atmospheres
Protection degree IP 66
Display 2 lines; alphanumerical
Handsfree operation
Impact protection IK 09
Integrated adjustable stabilizer bracket
Menues in several language
Operations temperature -25°C to +60°C
Receiver volume can be boosted in 7 steps from 0 –12 dB(A)
Sound pressure level approx. 90 dB(A)
Stainless steel (V4A) keypad
Steel armoured handset cord with snap-protection
Telephone directory
Types of protection:

II 2 G EEx em[ib] IIC T5
II 2 D IP66 T100°C
-25°C<=Ta<=60°C

II 2 G EEx em[ib] IIC T6
II 2 D IP66 T80°C
-25°C<=Ta<=40°C
Product variants
Headset - Set

Additional Earpiece - set

Loudspeaker - Set

Version without keypad ZB version
Ferntel 2 Zone 2
The new telephone for use in areas with explosive atmospheres of zone 2. Its housing is made of impact-resistant and shockproof Polycarbonate and approved for zone2 according ATEX. Within ranges of the chemical and petrochemical industry combustible atmospheres result again and again from process engineering operational sequence. Caused e.g. by gas, stream or nebula.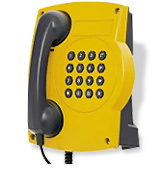 Properties
Housing: Polycarbonate
Colour: Yellow / Black
Desktop or wall mounting
Expl.protection class II 3 G EEx nA C L II T4
Handset can be fixed
Protection degree: IP66 / IEC 529
Receiver volume can be boosted by 6 or 12 dB(A)
Ringer out put: approx. 96 dB(A)
Temperature range: - 25°C up to + 60°C
SIEMENS
TELEFONSKE CENTRALE