Signalizacijska oprema sa IP zaštitom

Ferntel Euro ISDNMini Hooter
with Warning Light HPL/HPLB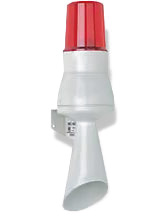 In many fields of application it is necessary to give both optical and acoustic alarms. The mini hooter withwarning light was designed for just such cases. Many applications also require two alarm stages, e.g. 1.alarm - optical signal, 2.alarm - optical and acoustic warning. Since it is possible to control the hooter system and light separately of each other, such alarms can be realized with the HPL / HPLB.
Properties
Housing: Thermoplastic (ABS), impact-resistant
Colour: Grey
Cap: Polycarbonate
Protection degree: IP 43 / IEC 529
Volume: approx.92 dB(A)
Temperature range: -20°C up to +50°C
Seperate control of hooter and warning light
Yodalarm Sounder YO3/M0, YO5/MO, YO8/MO
The Yodalarm sounders are loud, compact signalling devices with good directivity. Their IP 54 housings qualify them for use both indoors and outside. Thanks to their VdS-approval, the sounders are also used in fire and burglar alarm systems. The housing consists of ABS selfextinguishing according to UL 94VO). The sounders are equipped with 32 different tones and are therefore suitable for universal use.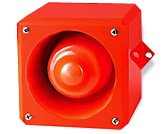 Properties

Housing: ABS
Colour: Red, similar RAL 2002
Protection degree: IP54
Volume: 93 - 112 dB(A)
Signals: 32 different signal tones
Temperature range: -35° up to +55°C
Approval: VdS (YO3, YO5)
Number: G 28 702
SIEMENS
TELEFONSKE CENTRALE