Telefonski aparati sa IP zaštitom

Weather proof ResistTel
Robust and weatherproof telephone for use in rugged conditions ResistTel means: making telephone calls in rugged ambient conditions with the best functional security in industrial areas. Our telephone is completely resistant to seawater, acid, lye and lubricants.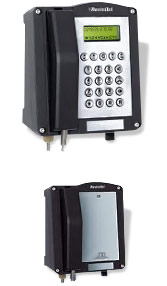 Properties
Housing glass-fibre-reinforced polyester
Display 2 line; alphanumerical
Handsfree operation
Impact protection IK 09
Integrated adjustable stabilizer bracket
Menus in several languages
Operations temperature -25°C to +60°C
Protection IP 66
Receiver volume can be boosted in 7 steps from 0 - 12 dB(A)
Sound pressure level approx. 95 dB(A)
Stainless steel (V4A) keypad
Steel armoured handset cord with snap protection
Telefon directory
Product variants
Additional earpiece se
Loudspeaker - set
Additional headset - set
Version without keypad ZB version
Ferntel Euro ISDN

Everyday life without fully digitalised ISDN telephones is no longer imaginable.
Until now, the advantages and possibilities of digital telephony have stopped short of areas where industrial production or outdoor storage facilities with extreme environmental conditions have be connected to a telephone network.
Our FernTel Euro-ISDN is a desk / wall telephone with an attractive, modern design; it may be delivered in various colours and is , of course, weatherproof IP66.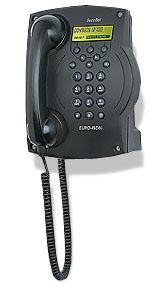 Properties
Automatic last number redial
Call deflection
Call filter
Desk / wallmounting
Handset retaining mechanism
Housing Polycarbonate
Illuminated Display
ISDN SO Bus
Keypad lockable via PIN code
Last number redial
Loud hearing via loudspeaker
Multi-language menu guide
On-hook dialling
Operation temperature -20°C to +60°C
Protection IP 66
Receiver volume: 6 adjustable, temporary levels
Ringer volume 96dB(A)
Telephone directory
Telephone lock (total, partial or directcall)
Various ringing tones
SIEMENS
TELEFONSKE CENTRALE